Effective and efficient. That should be the foundation of your LinkedIn outreach efforts. To use this social networking tool effectively, you need to prepare all the fundamental elements before you do any work that builds on that. You need to establish a solid LinkedIn presence in order to succeed. The key lies in standing out. You're competing with thousands of other business people just like you. Blending in is NOT an option. The GoPinLeads Chrome Extension and Phantombuster can help you to stand out.
Rubbish messages are the proverbial nail in your networking coffin. Don't even attempt to go down the copy-paste path with this one. Well, not entirely, at least.
Sending personalised messages is the way to go. You've probably been on the receiving end of the generic connection message yourself. And, let's call a spade what it is here, you've probably been pretty damned annoyed by it.
A generic message highlights that the person who sent you a connection request knows absolutely nothing about offering value – they did zero research and made no effort.
You've probably reached this point in the article and started wondering how much time you'll need to spend on sending out these messages. After all, it's probably looking like you'll have to do all of this manually.
Perhaps I should have been clearer. You need to send out personalised-ish messages.
And I can show you how to automate the process using GoPinLeads and Phantombuster.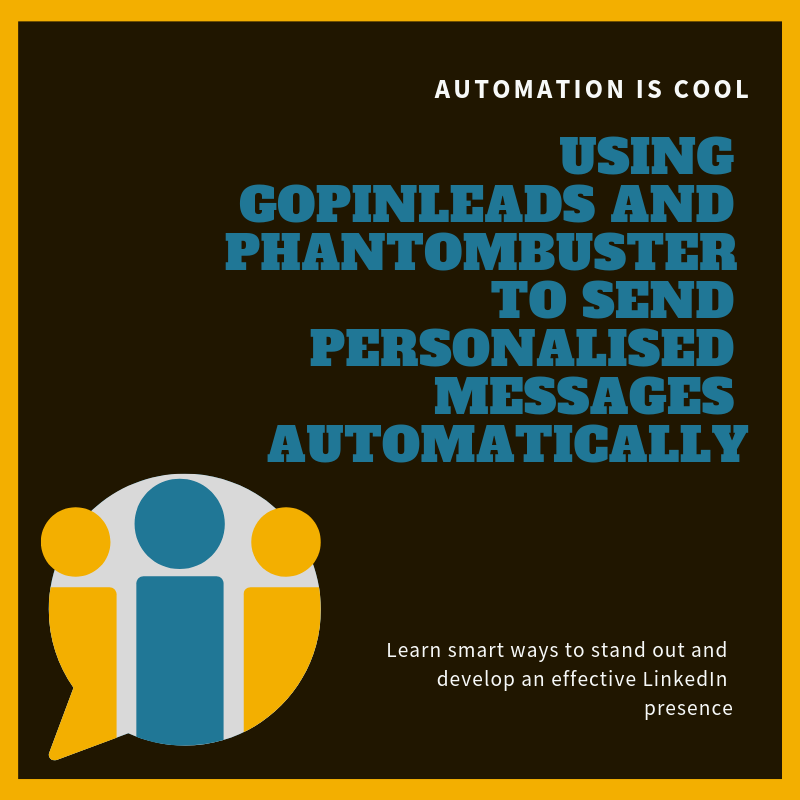 Start Off With GoPinLeads Chrome Extension
Use our business scraping tool to find leads in a particular industry and/or location.
Navigate to Google Maps.

Once you have signed in to the GoPinLeads Chrome Extension, search for your chosen keywords in Google Maps.

Click on the GoPinLeads Chrome Extension logo to re-open the tool.

Select whether you want all contact details or only email addresses.

Press "start search", this will take you onto the "businesses" tab. Use the "select all" button to select the first page of results.

Capture the subsequent Google Maps pages by pressing the "next page" button in Google Maps and re-opening the Chrome Extension as needed.

When you have exhausted all of the Google Maps pages that you would like to receive information from, press "continue".

Use the "load more" button at the end of the list to ensure that you are scraping all of the necessary details from your list of businesses.

Press the "create report" button to build your report based on your search criteria.

Press the "view report" button to view your report.

Copy the Excel sheet and save it in your own Drive.

Make sure that the columns are named according to your needs. Only the LinkedIn url column is mandatory for your needs this time.

Enable sharing.
Getting PhantomBuster Set Up
Make sure you have the following:
Your session cookie from LinkedIn

The link of your Google Spreadsheet

The number of messages to be sent per launch (between 1 & 10)

The customised message you plan to send
Here's what you need to do
1. Create an account on Phantombuster.com. If you already have an account, sign in.
2. Use this API on your account.
3. Click on the three configuration dots located on the right-hand side, under "Console".
4. Copy-paste your session cookie in the script argument:
4.1. Using Chrome, go to your LinkedIn homepage and open the inspector by right clicking anywhere on the page and selecting "Inspect".
4.2. Navigate to the "Application" tab.
4.3. Click on Cookies" > "http://www.linkedin.com" on the left-hand menu.
4.4. Find the "li_at" cookie, then copy and paste what you see under "Value" into your script Argument.
5. Copy-paste the URL of your spreadsheet into the Spreadsheet URL textbox.
6. Below the column name, you'll find the message configuration section. Make sure to tailor your message perfectly to fit with the intended recipient and keep the text to less than 7000 characters.
7. Check your replacement tags to see if they're in line with what you want to achieve.
e.g. #firstName# will be replaced by the first name of the person you're addressing. You'll also see replacement tags like #company#, #jobTitle#.
8. Add your own custom tags like #greeting to a new column to further personalise your message.
9. Click on "Launch" to send your connection requests.
https://www.gopinleads.com/wp-content/uploads/2020/01/GPL-logo-white.svg
0
0
admin
https://www.gopinleads.com/wp-content/uploads/2020/01/GPL-logo-white.svg
admin
2019-01-09 08:07:00
2020-08-12 19:25:30
Using the GoPinLeads Chrome Extension and Phantombuster to Send Personalised Messages Automatically