Many guides for LinkedIn profile optimisation start with at SEO, but that's just the tip of iceberg. In part one and two, we covered profile aesthetic, profile copy, LinkedIn SEO, lead funnel, connections and recommendations and skills.
Focusing all of your efforts on SEO doesn't work. Without fully optimising your profile for conversions, you're not making the most of the traffic coming in.
Part three of this LinkedIn profile optimisation guide will cover:
Posting and Content
Engagement
Analytics
1. Post the right kind of content, consistently
There have been a few guides on how to "hack" LinkedIn's algorithm. As posting seems to be quite hit or miss, it all comes down to what works best for both you and your audience.
Experiment with different content methods – shared blog posts, videos, images, long-form posts, etc. – to see which your audience engages with. Repeat what works and leave what doesn't. Eventually you'll nail down a LinkedIn content strategy that works for you and your audience.
Remember though that it can be difficult to test your content's success without being consistent. Y
ou should post different types of content throughout the day and assess the results. With only one short post per day, you likely won't get any real data.
Take a look at your competitors too – what they're posting and which types of content get the most engagement.
LinkedIn articles
The exception to the "post and pray" method is LinkedIn Articles, because the algorithm gives these articles a slight push.
While shared blog posts could attract a small handful of website visits, articles published on LinkedIn can easily receive up to five times the number of views.
Because of this, it makes sense to republish your existing blog content on LinkedIn. Though, be aware of the ramifications of having two identical pieces of content competing for the same keywords. If website SEO isn't a major concern to you, taking this approach could be worth it for the social traffic alone.
Lastly, be sure to include a call-to-action within your LinkedIn article to take advantage of that traffic.
2. Give engagement, get engagement
Though posting on LinkedIn can be hit or miss, engaging with other users offers much more promising results.
Whenever you engage on a post, your comment and name pops up on your connections' LinkedIn feed, as well as as a second- or third-degree connection to users in their network, further expanding your reach.
In simple terms, the more of a presence you have on LinkedIn, the more likely you are to be seen by people inside and outside of your network.
Because of this, most of your time on LinkedIn should be spent engaging with other user's content, rather than posting your own – at least until you come up with a content strategy that works. This is the best way to connect with users one-on-one, and reach profiles outside of your immediate network.
That's isn't to say that you shouldn't post on LinkedIn at all. But it's clear that more new traffic is driven to your profile through engaging with other peoples' posts.
When users see your comment, they are likely to visit your profile to learn more about you. After this, you can then reach out to them through a request to connect.
These views are reflected in your LinkedIn analytics and by your notifications.
3. Understanding Your LinkedIn Analytics
No LinkedIn profile optimisation guide is complete without proof of results in cold, hard numbers. Which is why all these LinkedIn best practices and optimisation hacks were tested thoroughly.
Every marketer and business owners should do the same, as LinkedIn optimisation is still not cut-and-dry. The success of your LinkedIn strategy depends on what works best for your target audience.
Profile views, connections and search appearances
LinkedIn offers rather limited data to see how your profile is performing, but it is enough.
You can see how many people have viewed your profile and posts. You can also see how many people have connected with you, and how often you have appeared in search results.
You can also see who has viewed your profile, unless they have a protected account, and examine any trends over time.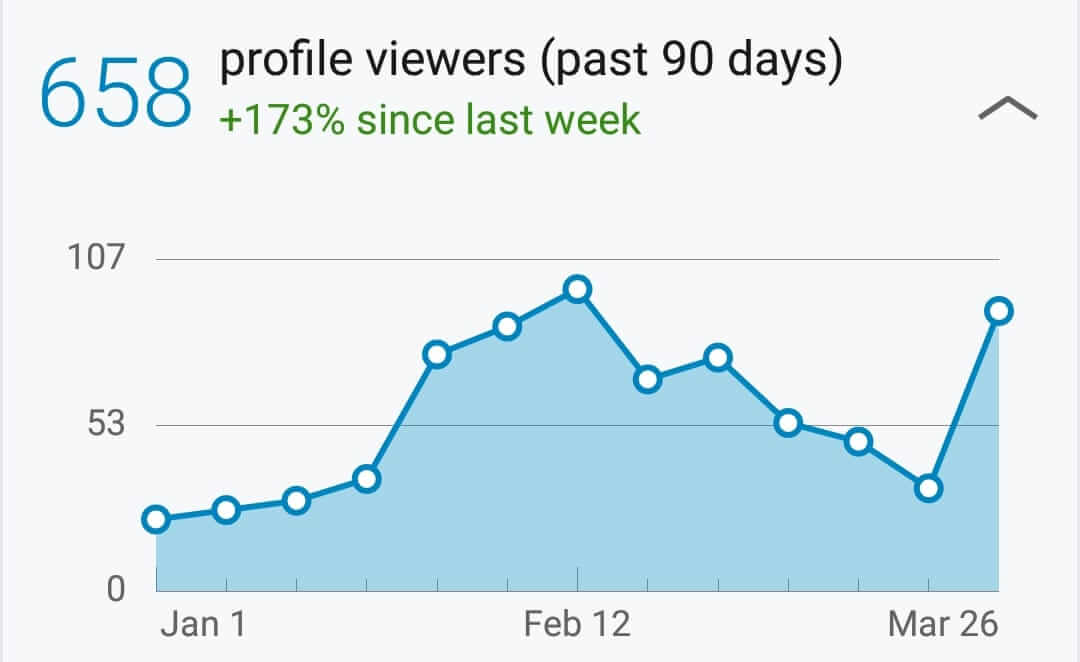 Using the LinkedIn SEO strategy outlined here, one profile saw a 173% increase in profile views over the course of 30 days. They also saw an average of around 50 profile views per day. All with very little posting or engaging on LinkedIn: roughly 1 to 3 times per day.
Their number of connections also grew from 325 to more than 900 in 90 days. They also generated at least 10 qualified leads in that time – without outreach.
Track your conversions
The goal of LinkedIn optimisation isn't just more connections or traffic though.
If you are starting on your own LinkedIn optimisation journey, it is recommend that you track how many leads you generate as a result of your efforts. LinkedIn does not track this for you. This is the only way to know whether your strategy is paying off.
You can make use of your Google Analytics to see how many visitors you are getting from LinkedIn, and set up conversion tracking there. If you are directing users to your LinkedIn inbox, you will have to track this manually or with a bot.
Numbers don't lie. Follow what works and you will see an increase in traffic, connections and leads over time.
Turn your LinkedIn profile into a lead-generation machine
Following the LinkedIn profile optimisation tips include in this guide and testing your own ideas for optimisation will allow you to generate high-volume traffic to your profile and convert that traffic into qualified leads for your business.
While the foundation of this strategy is conducting LinkedIn SEO keyword research, optimising your profile aesthetic, building quality connections, and directing visitors through your custom profile funnel, you should be making adjustments based on what works for your target audience and business model.
If you're not making the most of your LinkedIn profile, why not start today.
https://www.gopinleads.com/wp-content/uploads/2020/01/GPL-logo-white.svg
0
0
admin
https://www.gopinleads.com/wp-content/uploads/2020/01/GPL-logo-white.svg
admin
2019-07-08 18:24:00
2020-05-27 15:00:57
SEO Guide to LinkedIn Profile Optimisation - Part 3