Learn how to attract clients to your profile and craft messages for new connections and with this SEO guide to LinkedIn profile optimisation.
As we mentioned in part one, LinkedIn profile optimisation can help you to build connections with your industry's best and brightest, and also help attract your ideal clients. In part one, we covered profile aesthetic, copywriting and skills, endorsements and recommendations.
Part two of this LinkedIn profile optimisation guide will cover:
LinkedIn SEO
Lead Funnel
Connections
1. Implement LinkedIn SEO
LinkedIn SEO isn't quite the same as regular SEO. The keywords people use to find businesses and services on LinkedIn aren't quite the same as what they would use on Google. This is because most people don't really considered LinkedIn to be a search engine. They use it as it was intended – as another social media platform.
On LinkedIn, people are using short-tail keywords which match user's job titles. Conversely, on Google, for instance, people are likely to use keywords such as "copywriting services for small businesses". On LinkedIn, they are more likely to use terms like "copywriter" or "writer."
Even when people search short or long-tail keywords on Google, LinkedIn profiles can rank in the SERPs. So it's a good idea to optimise your profile with both regular and LinkedIn SEO keywords.
Finding SEO keywords
Finding keywords to use in your profile can be done in much the same way as regular keyword research. There are a few questions you should be asking:
What do you want your profile to rank for?
Do these terms get decent search volume, with low competition?
Do they match the intent of your target audience?
Generate a list of keywords which have a reasonable search volume and are worth ranking for. With this list, you can begin your LinkedIn SEO keyword research and utilize both for your LinkedIn profile optimisation.
Finding LinkedIn SEO keywords
Unfortunately, unlike regular keywords, there are no tools which provide search volume data for LinkedIn keywords. While it's not a hard science, it's possible to make informed guesses about how keywords are being used on LinkedIn.
An example process for finding keywords on LinkedIn:
1. Search for the broadest, shortest term associated with the services that you offer.
You can use the search field on LinkedIn to search for the broadest term that applies to your business.
For example, if your business is an SEO agency, this would be "SEO" or even "marketing". A Facebook ads expert would be "Facebook ads" or "advertising," perhaps "social media."
LinkedIn will automatically show you a list of the top results for that term in your network.
2. Look at the full results.
Underneath the list of results, there will be an option to "See all results for [keyword]." Clicking on this will reveal the full results page, taking you to a page that shows all of the results associated with this keyword, including the number of results, regardless of whether or not the results are connections, companies, groups, or the location of the results.
The top results will likely be your own connections, identified by a "1st," "2nd" or "3rd" degree connection annotation. LinkedIn prioritizes connections, so these aren't the true top results. Your job then is to determine which terms yield the best match and highest volume results.
3. Take note of search volume.
Make a note of how many results your initial search yields by looking at the original total, or by filtering it by people and companies, before moving onto the next step. Don't add any other filters yet.
Basically, you want to know how many results are retrieved when users search for that term to find companies or people that offer services like yours.
4. See expanded results for first-, second- and third-degree connections.
After the initial volume has been recorded, filter your results by ticking off the connection options.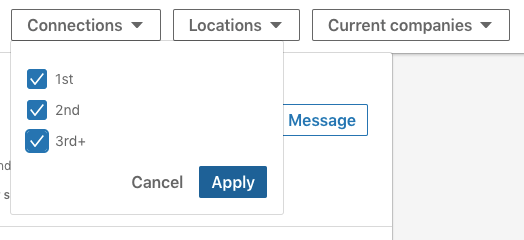 This will pull up the profiles of people that you are connected to, as well as those that you aren't.
Though there's no good way to see what other people are seeing when search for your target keyword, this method gets you close. It shows what keywords profiles within and outside of your network are using. It also shows how those profiles rank in LinkedIn for those terms.
This "search volume" will become your guide when for deciding which terms are worth using for your own LinkedIn profile optimisation.
5. Analyze the keywords used in the results.
Similar to conducting competitor analysis of websites in your niche, your next step will be identifying what keywords the "top ranking" profiles are using.
(Remember that the results your are seeing are skewed based on your degree of connection).
Note how keywords are being used in the resulting profiles. For instance, are they using "SEO strategist" or "SEO specialist", or are they just listing "SEM, SEO, SMM". Are they more specific? Try to identify some trends.
Finally, determine which terms are the best match for the kind of traffic you are trying to attract to your profile.
The example above shows that most of these profiles use the term "SEO" near the beginning of the headline. This may be something you would want to implement as well. They also use "SEO strategist".
Make a list of these terms and then enter them into the search box again to see what kind of results come up. Repeat until you have a list of the top 3 to 5 most used keywords related to your initial "seed" keyword.
6. Reference your SEO keywords list.
Compare your regular SEO keywords list to your LinkedIn SEO keywords list. If there is an overlap, keep those terms. If there are terms being used on LinkedIn that may not be a great fit for search engines, decide whether these should be replaced this with a high-volume, low competition SEO keyword.
Eventually you should have a mix of terms that have the potential of drawing to draw traffic from both LinkedIn and Google searches.
Adding LinkedIn and SEO keywords to your profile
Once you have a solid list of keywords, you can incorporate them into your LinkedIn profile.
One of the upsides of LinkedIn, compared to Google, is that there is no evidence that keyword stuffing is penalized. You still want to keep your audience in mind, though, and ensure your keywords fit into your copy in a compelling, natural way.
In the example above, the user has determined that despite "SEO copywriter" getting a fair amount of search volume from Google, more profiles used "SEO content" "content writer" and "copywriter."
People use the terms "freelance" and "ghostwriter" a lot. Keywords like "B2B" and "SaaS" are used to attract the types of businesses she work with.
Some areas to add keywords:
Headline
Summary
Experience section
Recommendations
Skills section
Should there be some regular SEO keywords that you don't want to leave out, the experience section is a great place to add these. Other trends you've found in terms of where keywords were being included in the top ranking profiles should also be followed in your own profile. However, you shouldn't make compromises if you think that your profile copy is stronger by taking a different approach. There's no one-size-fits-all approach to LinkedIn profile optimisation
4. Create a profile 'funnel'
While many LinkedIn users rely on visitors taking the initiative to contact them first, it's better to make it easy for people to convert.
This is achieved by funneling visitors down the page – from cover photo and headline, to your summary, to the media section and, finally, to your inbox or landing page.
Photos and headline – Awareness
Once visitors have read the text on your cover photo and in your headline, they should already have a fairly clear idea about who you are and who you help. They can then decide whether or not to learn more about you.
Summary – Interest
You summary section is where you can address any pain points your visitors might have, and communicate your unique selling point, as well as briefly covering the kinds of services that you offer. It is vital in this section to keep your messaging on point, based on the market research you conducted earlier
Media – Decision
The media section on your profile allows you to upload videos or add links to your website and blog posts, and this is the content that could convince your visitors that you are the right fit for them. It is a great candidate for LinkedIn profile optimisation.
Though directing visitors to a page or post could be effective, it involves directing visitors off of your profile, and this creates the chance of a bottleneck. Visitors could drop off due to inconvenience, or the fact that reading through a wad of text takes longer than watching a short video.
For this reason, adding videos to your media section is usually a better idea than links. The video should address the pain points your target audience faces, how you can help them and include a strong call-to-action.
Inbox or landing page – Action
The call-to-action in your video should advise visitors on how best to contact you – through LinkedIn direct message, or through your website. You may want to include a unique landing page for LinkedIn leads.
Your call-to-action could sound something like, "If you are interested in [example] services, send me a message [through LinkedIn/on my website/through this link]."
Be specific about how they should reach you and what they can expect after they contact you. "Send me a LinkedIn message for a custom quote" is much more appealing than "Visit mywebsite.com for more info."
Creating a profile funnel allows you to fully take advantage of the traffic coming to your profile. Without a funnel, visitors are left to figure out what you offer and how to contact you, while a funnel makes the process simple, straightforward and conversion-friendly.
5. Build SMART connections
Though LinkedIn SEO and a well-crafted profile funnel can tap into the power of inbound marketing on LinkedIn, there's another way to attract your ideal clients to your profile – building connections with professionals in your industry and your target audience.
As was covered in the SEO section, LinkedIn prioritizes showing connections whenever you search for a keyword. The same goes for your potential clients. If you are connected with people in their network, it is more likely for your profile to pop up when they search for one of your keywords.
Therefore, the more industry connections you have, the better.
Making the right kind of connections
Often, LinkedIn users will connect with every person they can find, apart from obvious spammers.
Though there is no evidence of it, it is possible that this could potentially weaken you profile, as you will become associated with profiles outside of your industry, making it less likely for your profile to be associated with your target keywords.
Common sense would dictate that it probably isn't beneficial be connected with graphic designers in India if you provide legal SEO services in the United States.
It makes more sense to build connections within your industry and the industries of your target audience. For a legal SEO expert for instance, this would mean connecting with other legal SEO agencies, law firms, law blog writers and digital marketing experts, etc.
Be smart about the kinds of connections you need and how they could benefit your business, in both the short and long-term.
Finding your target audience on LinkedIn
Connecting with other people in your industry is simple, and you should put more time and energy into connecting with people who personify your target audience.
You will likely already know what these people look like if you've been in business for a while. Knowing what they look like – small business owners, law firms, SaaS businesses, tech entrepreneurs, Fortune 500 companies – you can simply use these identifiers to find matching profiles on LinkedIn.
If you are just starting out, the first step will be figuring out what terms your target audience is using to describe themselves on LinkedIn. You can do this by searching some general terms that you know about your audience. Some examples include "small business", "mommy blogger" or "contractor". Do this, and see what comes up.
Find people that fit your ideal client persona, take note of what terms they use in their headline and summary and use these terms to find other people to connect with.
Connecting and saying "Hi"
One of the reasons for LinkedIn's bad reputation of being dull and spammy is the fact that many users use the platform to cold pitch their new connections. Rather than adding to this, every time you extend a connection request to someone, send them a personalized message introducing yourself and why you want to connect with them.
You are practically strangers, so it will probably take a bit for them to trust you and determine whether the connection is worth it.
Rather than jumping into the pitch, follow scripts similar to the ones below:
Networking Script
"Hello [ name ],
Thanks for connecting. I see that we're both in the [ niche ] industry. I am an [industry title] myself. Are you working on anything interesting lately? Hope to chat soon! – [your name ]"
This implies that the person has already connected with you or could have extended the connection first. This creates a sense of familiarity, rather than making it seem like a random stranger is connecting with them.
It also provides a reason for the connection, rather than leaving room for them to suspect ulterior motives. Once they know what you do, they can decide whether or not the connection is worth their time.
Lastly, it prompts them to respond by asking them about themselves, putting the ball in their court. This is great if they happen to be working on a project that you could potentially help with. It opens the door for that conversation without you coming across as salesy.
Potential client script
"Hello [ name ],
Thanks for connecting. I see that you [ run a small business/have a law firm/are a tech entrepreneur/etc ]. I wanted to reach out because I [ help businesses like yours do x ]. Maybe there's potential to work together. Are you working on anything interesting lately?"
Similar to the previous script, this one lets the person know who you are and why you want to connect with them, leaving it up to them to respond to you.
Having no pitch that implies that you don't know how you can help them – because you don't yet. It also avoid any rambling about the services you offer. This way, the conversation can be more open. This also prevents the risk of you pitching them on one service when they may have asked you about one you didn't think to mention.
Allowing the conversation flow more naturally means they will likely ask you about services that are most relevant to them. An added benefit of this approach is that you can avoid drawing in leads that may not be the best fit for you.
A final note about connections
Try to build as many connections as possible by following the process outlined above. At the very least reach, try to the 500+ mark. This helps you build a more expansive network and appear as a trusted person in your industry.
Stay tuned for part three of our LinkedIn profile optimisation guide. There we will discuss posting and content, engagement and analytics
https://www.gopinleads.com/wp-content/uploads/2020/01/GPL-logo-white.svg
0
0
admin
https://www.gopinleads.com/wp-content/uploads/2020/01/GPL-logo-white.svg
admin
2019-07-05 20:46:00
2020-05-27 15:08:15
SEO Guide to LinkedIn Profile Optimisation - Part 2