We recently did a poll on our community page asking which networking platform you'd most like to crack. The winner: Instagram hacks for more followers.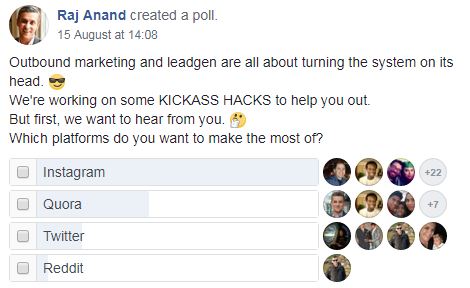 Instagram is probably one of the trendiest kids on the block. It's all about quality content and engagement. Instagrammers are looking for content they can relate to, advice they'll actually use, and cool stuff they just can't live without. And then there's the food…boy are there a ton of lunchtime snaps or what?
Cracking the Insta-code isn't too crazy. All you really need to do is stay on trend, post regularly, reciprocate on post interactions, and be as authentic as possible.
We've come up with 10 Instagram hacks for more followers, to help you grow your account organically and fairly quickly too!
1. Kick Some Ass With Your Content
Facing a bit of a content block? Cool your jets and quit panicking. Check out what your competitors are doing and rework their stuff. Big brands spend thousands of dollars on content research, so they know what works. Emulate their strategy and recreate their top posts. Work smart, not hard!
Amp up your smart content creation approach by re-posting other people's posts. Don't use a re-post tool. Save the image to your phone and post it on your profile. Make sure to credit the original poster by tagging them directly and by crediting them in your caption.
Do a little exploring. Search the top 9 posts on Instagram for a popular hashtag. Save the pic to your phone and repost it from scratch on your profile. Don't forget to tag the original poster directly, and credit them in the caption. Flattery is everything.
2. Consistency is Key
Don't be a lame-o. Post consistently to keep your interaction up. If you can post multiple times a day, you're definitely winning. Make a big effort and Instagram will prioritise your content.
If you post several times a day, you'll be reaching a wider audience. The more time zones you hit, the bigger your audience will be.
3. Scheduling Software is a No-No
I get it. You've got a ton of shit to do and scheduling software makes your life easier. Just this once, you're going to have to do some manual labour.
You won't get banned if you use 3rd party software BUT your posts will be de-prioritized. Instagram rewards its loyal manual posters.
4. Buying Followers is Insta-Death
This isn't an exaggeration. If you're going to buy followers, consider writing off your Instagram account as a dead end. Though we're looking at Instagram hacks for more followers, cheating your way to the top won't work.
Anyone you pay to become a follower will probably unfollow you after a month or so. Their duty is to boost your count for a short time only. Once their job is done, they'll unfollow and move on.
Fake followers are never going to buy from you. Why are you investing in these people when there's no return?
Your engagement ratio is going to plummet. Your engaged follower count will be way lower than your total followers, so you're really just kicking yourself in the teeth. Instagram will deprioritise low engagement ratio posts and accounts. It is what it is.
5. Do Your Hashtag Homework
Hashtag research is crucial – you can't just wing it.
Keep your hashtags as unique and low-competition as possible. General hashtags have millions of followers so unless your follower count is up there too, you're kinda wasting your time.
Your goal is to rank in the top 9 posts for a specific hashtag so that Instagram will show off your post on the Explorer page. This is where you'll be pulling your new audience from, so make it count!
6. Stop Using the Same Old Hashtags on Repeat
Don't turn your account into the broken record of hashtags. Use important hashtags that align with your brand but mix it up by throwing in something a little different each time.
Instagram is working overtime to clamp down on bots. If you're posting at the same exact time every day and you're using the same old hashtags each time, you might get mistakenly flagged as a bot and face a shadowban (or worse) on your account.
7. You Have 30 Hashtags Available – Use Them
If you pass up on the chance to use all of your hashtags, only your friends will see your posts. You wouldn't waste a free lottery card, don't waste this awesome opportunity.
Your content could compete with the best of the best but if your hashtags aren't solid, your content is going nowhere.
8. Play Nice and Socialise
It's called social media for a reason. So, be social!
Like your followers' posts, comment occasionally, thank your top followers for their support! Again, flattery gets you everywhere… but don't be a suck up about it. People value quality interaction – after all, that's the whole point.
Connect with other accounts that you might be able to collaborate with. Do some cross-promoting, maybe some sweepstakes here and there. Be creative.
9. Make the Most of Every Function
Be smart about using the functions presented to you. If you want to make the most of Instagram, get used to IGTV, stories, and posts. Instagram is a big ass machine, which will work best if all its parts are functioning properly.
Social media platforms tend to prioritise features they've just introduced. Everybody wants to promote their new stuff, right? This means that IGTV is the hottest of the hot right about now.
Repurpose your content if you're worried about finding a whole ton of new content ideas on a daily basis. Create a short teaser of your IGTV video. Use the main point of your video and create a few additional posts around that.
If you have more than 10 000 followers, it's a good idea to link your story to your IGTV and/or website.
10. Connect with Influencers
Take a little time to make a list of all the influencers in your niche that you might like to work with.
Work on developing a relationship with them. Spend some time each day just interacting with their posts. Leave a a meaningful comment or three. Simply throwing out phrases like "great post" or "I love your profile" aren't going to get you anywhere. Talk specifically about the content in their post.
Mega influencers aren't the only way to go. Micro influencers are rapidly becoming more and more important as people realise it's interaction, and not numbers, that counts.
If you are going to work with micro influencers, remember this: you're NOT doing them any favours. Offering them a paid gig doesn't mean you own them. They're not always going to have the ideal turnaround time – it takes a while to really get the word out on Instagram.
Be patient, using these Instagram hacks for more followers will make a world of difference to your brand.
https://www.gopinleads.com/wp-content/uploads/2020/01/GPL-logo-white.svg
0
0
admin
https://www.gopinleads.com/wp-content/uploads/2020/01/GPL-logo-white.svg
admin
2018-08-21 08:58:00
2020-09-19 11:10:34
10 Instagram Hacks for More Followers in Less than 5 Months